书画作品主要由纸张及绢、锦等织物构成,具有怕热、怕光、怕湿、怕霉和怕虫咬等。"五怕"特征,易受损,不易保存。所以
山东收购名人字画
人员说收藏保护字画需注意以下四个方面:
Calligraphy and painting works are mainly composed of paper, silk, brocade and other fabrics, which are afraid of heat, light, moisture, mold and insects. The "five fears" feature is easy to damage and difficult to preserve. Therefore, Shandong personnel who acquired famous calligraphy and painting said that the following four aspects should be paid attention to when collecting and protecting calligraphy and painting:
一:要避光
1: Avoid light
收藏名家字画可以享受视觉愉悦。换言之,字画可以放在家里欣赏,它不像其他投资理财模式,看起来商品对象是虚拟的。也正由于字画艺术品能给藏家带来精神享受,不少收藏家才会不惜巨资有的甚至倾家荡产去竞购心仪的字画;有的藏家因与心仪的珍宝擦肩而过而懊悔不已,更有的藏家对不能得到梦寐以求的藏品而吃饭不香,睡觉失眠。
Collection of famous calligraphies and paintings can enjoy visual pleasure. In other words, calligraphy and painting can be enjoyed at home. Unlike other investment and financing models, it seems that the object of goods is virtual. It is precisely because calligraphy, painting and artworks can bring spiritual enjoyment to collectors that many collectors will not hesitate to spend huge sums of money or even lose all their money to bid for the desired calligraphy and painting; Some collectors feel remorseful for passing by their favorite treasures, while others feel unsavory to eat and sleep because they can't get their dream collections.
二:要去尘
2: Dust removal
字画收藏前,好掸去字画表面的灰尘,防止把灰尘卷进字画,也要防止轴头中引起发霉、污染或虫蛀。对于绢本的字画尤应注意,灰尘落在绢缝里,一定要耐心把它清除,否则一遇潮气,字画的寿命就会缩短。此外,灰尘中潜伏着人眼看不到的虫卵,在温、湿度适宜时就变成成虫,日后便会蛀咬字画。因此,字画不应该一挂数年,因为挂的过程,就是缓慢风化、变质、褪色和损伤的过程。
Before collecting calligraphy and painting, dust on the surface of calligraphy and painting should be removed to prevent dust from being rolled into calligraphy and painting, and to prevent mildew, pollution or moth eaten in the shaft head. It is particularly important to pay attention to the calligraphy and painting in the silk edition. If the dust falls in the silk seam, it must be removed patiently, or the life of the calligraphy and painting will be shortened in case of moisture. In addition, there are insect eggs hidden in the dust that can't be seen by human eyes. When the temperature and humidity are appropriate, they will become adults, and will eat calligraphy and painting in the future. Therefore, calligraphy and painting should not be hung for several years, because the hanging process is a process of slow weathering, deterioration, fading and damage.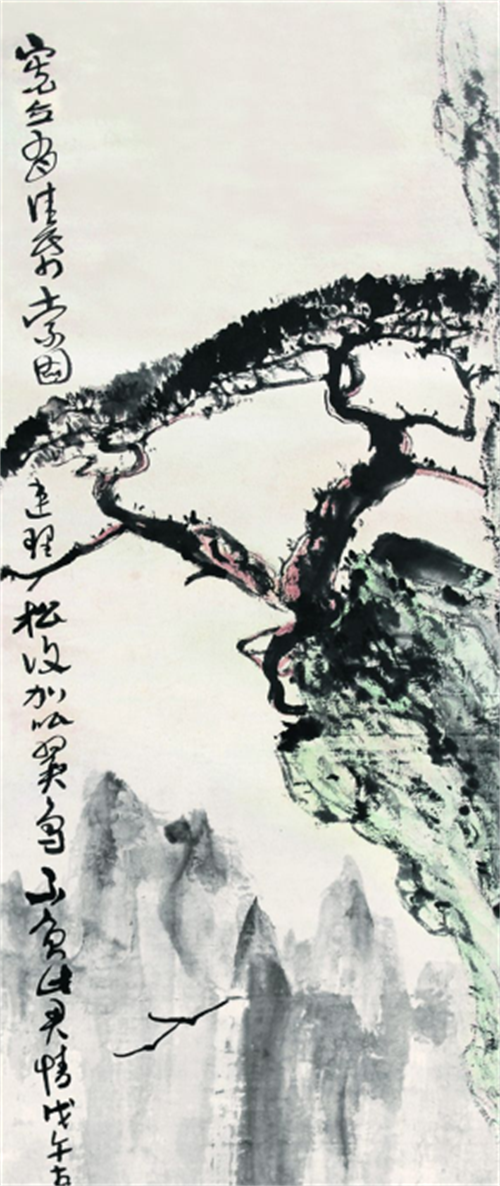 三:要防潮
3: Keep damp
首先,选择不潮湿的墙壁张挂,并要在室内避开有水蒸气的地方,预防平时的湿气附在字画上;其次,当雨季到来之前,应暂时将裸露的字画收藏起来,梅雨季过后,及时选晴朗、干燥的天气,将字画逐一展开或张挂,以便在通风中驱散潮气。
First of all, choose a non humid wall to hang, and avoid places with water vapor indoors to prevent the usual moisture from attaching to the calligraphy and painting; Secondly, when the rainy season comes, the exposed calligraphy and painting should be temporarily collected. After the plum rain season, the sunny and dry weather should be selected in time to unfold or hang the calligraphy and painting one by one, so as to disperse the moisture in the ventilation.
四:要密封
4: To seal
收藏字画者好能把字画用牛皮纸包裹好放入密封性能好的箱子或柜子里,再放人吸水性能较好的土纸或报纸吸收水分,同时在箱角处放上樟脑块等驱虫用品,以防虫蛀,延长字画寿命。报纸是吸收书画表面潮气的简单实用品,其油墨还能够防虫。
It is good for collectors of calligraphy and painting to wrap the calligraphy and painting with kraft paper and put them in boxes or cabinets with good sealing performance, and then put them in clay paper or newspapers with good water absorption performance to absorb water. At the same time, put insect repellent products such as camphor blocks at the corners of the boxes to prevent insects from eating and prolong the life of calligraphy and painting. Newspaper is a simple practical product that absorbs moisture on the surface of calligraphy and painting, and its ink can also prevent insects.
Calligraphy and painting are also a kind of commodity, but with the passage of time, the value will increase, which has a good role in resisting risks. It can be said that collecting calligraphy and painting is a very wise choice with many benefits. I hope the above content can help you. Please come to our website for more precautions http://www.jinandayatang.com Please consult.