随着书画市场的逐步火热,书画成为了人们一种投资收藏。但对于很多的书画收藏爱好者,像齐白石、张大千、徐悲鸿等名家字画,是他们所不能负担的,具潜力的当代名家字画,成为了人们的好选择。那么名家字画和名人字画的区别到底是什么呢?
字画鉴定评估
小编来给您解答
With the gradual popularity of the calligraphy and painting market, calligraphy and painting have become an investment collection for people. But for many collectors of calligraphy and painting, such as Qi Baishi, Zhang Daqian, Xu Beihong and other famous calligraphers and paintings, they can't afford it. The potential contemporary famous calligraphers and paintings have become a good choice for people. So what is the difference between famous calligraphies and paintings and famous calligraphies and paintings? Calligraphy and painting appraisal evaluation editor to give you an answer
问:两类艺术品如何定性?
Q: How to determine the nature of the two types of artworks?
"书画名人"是指在书画领域有较高造诣者,多为科班出身,如傅抱石;或专职长期从事书画艺术创作,他们因擅长本业且长期从事艺术创作而得名。"名人书画"是指在书画行业外有很高知名度者,并非科班出身(或不具备过高造诣),不以书画为本业,但他们的作品却被世人热捧,如梅兰芳,在戏曲界中他有很高的知名度,而在书画领域并非专门的。
"Calligraphy and painting celebrities" refer to those who have high attainments in the field of calligraphy and painting, most of whom are from the university, such as Fu Baoshi; Or full-time and long-term engaged in calligraphy and painting art creation. They are famous for their professional skills and long-term artistic creation. "Celebrity painting and calligraphy" refers to those who have a high reputation outside the painting and calligraphy industry. They do not have professional background (or high attainments) and do not take painting and calligraphy as their profession, but their works are popular with the world, such as Mei Lanfang, who has a high reputation in the opera industry, but is not specialized in the painting and calligraphy field.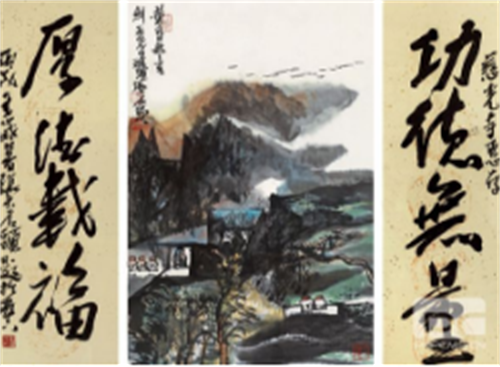 问:二者在市场中表现?
Q: How do they perform in the market?
各有需求。今天相对于"书画名人",市场更看重"名人书画"。即使是以书画为本业的艺术家也须广泛参加社会活动,使自己很"知名",进而加入当下的"名人书画"序列。名人书画相当于有名的牌子商品,社会身份价值相当于品牌商标价值,在商品经济社会中,交易价值大于生产价值。
Each has its own needs. Today, compared with "celebrities in calligraphy and painting", the market places more emphasis on "celebrities in calligraphy and painting". Even artists who take calligraphy and painting as their profession must participate in social activities extensively to make themselves "famous", and then join the current "celebrity calligraphy and painting" sequence. Celebrity calligraphy and painting are equivalent to famous brand goods, and the value of social identity is equivalent to the value of brand trademark. In the commodity economy society, the transaction value is greater than the production value.
没有社会符号价值的艺术品犹如没有商标的产品,即使具有完全的使用价值和欣赏价值,也只能通行于低端市场,而不能进入主流市场。因此技艺高者因暂时不知名未必有高价格,在当下市场中,要看谁更有话语权与艺术影响力。
Artwork without social symbol value is like a product without trademark. Even if it has full use value and appreciation value, it can only be used in the low-end market, but cannot enter the mainstream market. Therefore, those with high skills may not have high prices because they are unknown for the time being. In the current market, it depends on who has more voice and artistic influence.
问:投资者如何去选择?
Q: How do investors choose?
"名人书画"往往与当时的审美趋向有关,投资者在选择时应注意时效性,在有效期内兑换,时效性一过,其作品或将失去原有价值。此种投资重视的是短期效益。"书画名人"价值稳定,一旦在艺术史中定位,就会长久有效。
"Celebrity calligraphy and painting" is often related to the aesthetic trend at that time. Investors should pay attention to the timeliness when choosing, and exchange them within the validity period. Once the timeliness expires, their works may lose their original value. This kind of investment focuses on short-term benefits. The value of "calligraphy and painting celebrities" is stable, and once it is positioned in the art history, it will be effective for a long time.
投资者应注意其真假风险。由于艺术品精品产量少,大师们创造的艺术经典远远不能满足当时社会需求,历来被社会鼓励临习,默许模仿,因此市场上就出现了很多"高仿"作品。
Investors should pay attention to the risk of authenticity. Due to the small output of fine works of art, the artistic classics created by masters were far from meeting the social needs at that time, and were always encouraged to learn and imitate by the society, so there were many "high imitation" works on the market.
Although there are market demands, the demanders are different. Whether you choose "famous calligraphers and painters" or "famous calligraphers and painters", there are risks. You can come to us for research http://www.jinandayatang.com Share and exchange!