作为收藏品的书画,保养不好容易损坏影响收藏价值,因此学会正确保养至关重要。今天
收购名人字画
小编跟大家一起来分享,从以下几点入手,做好名家书画"保养"并不难!
As a collection of calligraphy and paintings, poor maintenance can easily damage their collection value, so it is crucial to learn to maintain them correctly. Today, we will share with you the acquisition of celebrity calligraphy and painting editors. Starting from the following points, it is not difficult to do a good job in maintaining famous calligraphy and painting!
1.避免强光直射
1. Avoid direct sunlight
名家书画切记不可挂在太阳光可以直射到的地方,珍贵的收藏品好放于木匣中置阴处保存,不要轻易见光。
Famous calligraphers and painters must not hang them in places where sunlight can directly reach them. Precious collectibles should be stored in a wooden box in a shaded area, and should not be easily exposed to light.
2.除尘防虫
2. Dust and insect prevention
环境污染对书画的损害非常大,定期清理灰尘,避免灰层过多对书画产生影响,保证书画作品的整洁。
Environmental pollution causes great damage to calligraphy and painting. Regularly clean up dust to avoid excessive dust layers affecting calligraphy and painting, and ensure the cleanliness of calligraphy and painting works.
在防止书画被虫蛀方面,可用樟脑丸挥发出特殊的气味来防虫,具有较好的驱虫效果。使用时将樟脑药放在收藏书画作品周围。
In terms of preventing calligraphy and painting from being eaten by insects, camphor balls can emit a special odor to prevent insects, which has a good insect repellent effect. When using, place camphor medicine around the collection of calligraphy and painting works.
3.卷放要得法
3. Roll and place properly
书画作品长期处于挂展状态时,纸张要承受下垂的拉力和张力,使纸张的强度减弱,所以在挂展一段时间后,应当安排其"休息、调整"。卷放就是使书画处于休息状态,让它恢复原来的拉力和张力。可以将书画作品轮流挂展,以供欣赏。
When calligraphy and painting works are in a long-term hanging state, the paper needs to withstand the sagging tension and tension, which weakens the strength of the paper. Therefore, after hanging for a period of time, it should be arranged to "rest and adjust". Rolling is to put the calligraphy and painting in a resting state, allowing it to regain its original tension and tension. Calligraphy and painting works can be displayed in turns for appreciation.
4.控温度防潮湿
4. Temperature control and moisture prevention
书画作品不论是立轴、屏、对联、手卷、册页,还是扇面、斗方,基本上属纸质品和丝织品两种,两者都含有纤维质,具有吸湿性,故而切不可让字画置于潮湿的地方。
Calligraphy and painting works, whether they are vertical scrolls, screens, couplets, scrolls, albums, fans, or squares, basically belong to two types: paper and silk, both of which contain fiber and have hygroscopicity. Therefore, calligraphy and painting should not be placed in damp places.
书画保存空间温度应保持在14℃~20℃左右,相对湿度在50~60%。倘若室内相对湿度偏高,容易引起纸张受潮而滋长霉菌,霉菌在潮湿、温暖和黑暗条件下易繁殖。
The temperature of the storage space for calligraphy and painting should be maintained at around 14 ℃~20 ℃, and the relative humidity should be between 50-60%. If the indoor relative humidity is relatively high, it is easy to cause paper to become damp and mold to grow. Mold is easy to reproduce in humid, warm, and dark conditions.
但也不能太干燥,太干燥容易引起字画的翘曲变脆,遇天气过分干燥时,可常用湿墩布拖地,或在房内放盆水。天气潮湿时,尤其在雨季,尽量少开窗户,这样可以使房间的湿度得到相应的控制,一般美术馆博物馆有恒温恒湿的条件。还有一点诀窍,挂书画时不直接贴着墙,卷轴类的跟墙壁有五公分左右的距离好。
But it should not be too dry, as it can easily cause the calligraphy and painting to warp and become brittle. When the weather is too dry, wet mops can be used to mop the floor, or a basin of water can be placed in the room. When the weather is humid, especially during the rainy season, try to open fewer windows as much as possible to control the humidity of the room accordingly. Generally, art museums have constant temperature and humidity conditions. Another trick is not to stick books and paintings directly to the wall when hanging them. It's better to have scrolls that are about five centimeters away from the wall.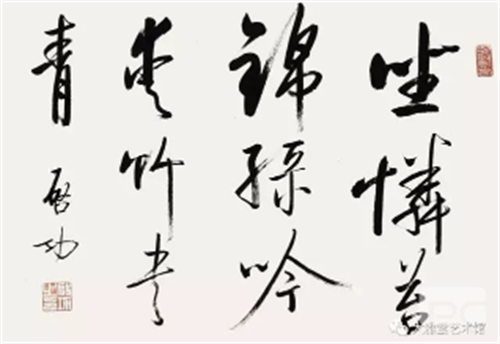 5.书画切记不可碰水
5. Remember not to touch water in calligraphy and painting
书画作品一旦吸水会造成纸张的破损,这样一来会大幅减少书画的价值。
Once a painting or calligraphy work absorbs water, it will cause damage to the paper, which will greatly reduce the value of the painting or calligraphy.
6.不伤害书画
6. No harm to calligraphy and painting
书画保护还应注意欣赏时不要用手指接触画面,展开和收卷时不要将画折坏留下折痕,收藏的书画由于年久会变得较脆容易弄折裂,所以一般不随便动手,收、拿、卷、挂等动作也一定要格外小心,做到轻手轻脚。
The protection of calligraphy and painting should also pay attention not to touch the screen with your fingers when appreciating, and not to break or crease the painting when unfolding and rolling. Collected calligraphy and painting can become brittle and easily crack over time, so it is generally not done casually. Actions such as folding, holding, rolling, and hanging should also be taken with extra care, and should be done with light hands and feet.
7.好装裱收藏久
7. Good mounting and long-term collection
装裱是书画收藏过程中非常重要的一个环节,装裱的质量好坏直接影响到书画的保存寿命。所以手工装裱扮演着非常重要的角色,手工做的浆糊可以让托底的书画平整度好,防虫,更好的传承好书画。
Mounting is a very important process in the collection of calligraphy and painting, and the quality of mounting directly affects the shelf life of the calligraphy and painting. So manual mounting plays a very important role, and handmade paste can make the bottom of the calligraphy and painting smooth, insect proof, and better inherit the calligraphy and painting.
Whenever we can understand the weaknesses of some calligraphy and painting that are prone to damage, we can take effective preventive measures to delay the aging and damage process to a certain extent, prolong the lifespan of the calligraphy and painting, and preserve its original appearance. For more related content, come to our website http://www.jinandayatang.com Take a look!