1 避免强光直射
1. Avoid direct sunlight
切记不可挂在太阳光可以直射到的地方,好放于木匣中置阴处保存,不要轻易见光。
Remember not to hang it in a place where direct sunlight can reach, and store it in a wooden box in a shady place. Do not easily see the light.
2 除尘防虫
2. Dust and insect prevention
环境污染对书画的损害非常大,应该定期清理灰尘。另外可用樟脑丸挥发出特殊的气味来防虫,一年之中可放二次,分别在34月,1011月
Environmental pollution causes great damage to calligraphy and painting, and dust should be cleaned regularly. In addition, camphor balls can emit a special odor to prevent insects. They can be released twice a year, in April and November, respectively
3 卷放要得法
3 rolls should be properly placed
书画作品长期处于挂展状态时,纸张要承受下垂的拉力和张力,使纸张的强度减弱,所以在挂展一段时间后,应当安排其"休息、调整"。
When calligraphy and painting works are in a long-term hanging state, the paper needs to withstand the sagging tension and tension, which weakens the strength of the paper. Therefore, after hanging for a period of time, it should be arranged to "rest and adjust".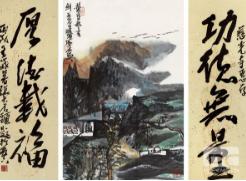 4 控温度防潮湿
4 temperature control and moisture prevention
书画作品载体一般都含有纤维质,具有吸湿性,所以不适于放在潮湿的地方。空间温度应保持在14℃~20℃左右,相对湿度在50~60%。
The carriers of calligraphy and painting works generally contain fiber and have hygroscopicity, so they are not suitable for placing in damp places. The temperature of the space should be maintained at around 14 ℃~20 ℃, and the relative humidity should be between 50-60%.
如果湿度偏高,容易受潮滋长霉菌。
If the humidity is too high, it is easy to get damp and grow mold.
如果太干燥,则会引起字画的翘曲变脆,可常用湿墩布拖地,或在房内放盆水。
If it is too dry, it can cause the calligraphy and painting to warp and become brittle. Wet mops can be used to mop the floor, or a basin of water can be placed in the room.
天气潮湿时,尤其在雨季,尽量少开窗户,这样可以使房间的湿度得到相应控制,还有一点,挂书画时不直接贴着墙,卷轴类的跟墙壁有五公分左右的距离好。
When the weather is humid, especially during the rainy season, try to open fewer windows as much as possible to control the humidity of the room accordingly. Also, when hanging books and paintings, do not directly stick to the wall. It is better to have scrolls about five centimeters away from the wall.
5 书画切记不可碰水
5. Remember not to touch water in calligraphy and painting
书画作品一旦吸水会造成纸张的破损,这样一来会大幅减少书画的价值。
Once a painting or calligraphy work absorbs water, it will cause damage to the paper, which will greatly reduce the value of the painting or calligraphy.
6 不伤害书画
6. No harm to calligraphy and painting
书画保护还应注意欣赏时不要用手指接触画面,展开和收卷时不要将画折坏留下折痕,收藏的书画由于年久会变得较脆容易弄折裂,所以拿的时候要做到轻手轻脚。
The protection of calligraphy and painting should also pay attention not to touch the screen with your fingers when appreciating, and not to break or crease the painting when unfolding and rolling. Collected calligraphy and painting can become brittle and easily crack over time, so it is important to handle them with care.
7 书画受潮如何处理?
How to deal with damp calligraphy and painting?
这个问题很多收藏家都非常好奇,特别是南方比较潮湿的沿海地区,有时难免受潮,万一书画受潮可以这样补救:若在书画表面发现有霉点,可用宣纸轻轻扫除,若不能扫除,就要揭裱,因为霉点会慢慢蚕食书画,对书画的危害很大。但揭裱的工艺又是另外一套复杂的工序,所以为了避免对书画造成伤害,在收藏的过程中要注意防范,防止发霉。
Many collectors are very curious about this issue, especially in the humid coastal areas of the south, which can sometimes be affected by dampness. In case of dampness in calligraphy and painting, this can be remedied: if mold spots are found on the surface of the calligraphy and painting, they can be gently cleaned with rice paper. If they cannot be cleaned, they must be removed and mounted, as mold spots can slowly eat into the calligraphy and painting, posing great harm to the calligraphy and painting. But the process of uncovering and mounting is another complex process, so in order to avoid damage to calligraphy and painting, it is necessary to pay attention to prevention during the collection process to prevent mold.
书画拆框揭裱后,如若发现很多水汽,千万不能直接晒太阳,宣纸见太阳会变脆,要慢慢风干。
After removing the frames and frames of calligraphy and painting, if a lot of moisture is found, do not directly expose it to the sun. Rice paper will become brittle when exposed to the sun, and it needs to be slowly air dried.