许多人都将书画鉴赏与收藏看成是一件十分玄妙、高不可攀的事情。其实,凡是有志于这个门道的人,只要肯下功夫,方法对路,具有一定的文化知识,都是可以学会的。
Many people regard the appreciation and collection of calligraphy and painting as a very mysterious and unattainable thing. In fact, anyone who aspires to this path can learn it as long as he is willing to work hard, has the right method and has certain cultural knowledge.
实际上有个别所谓的"画贩子",其眼力并不比专业搞鉴定的差。其实鉴定书画犹如熟悉了解人。比如说有一位你熟悉的朋友,老远看到并不一定看清楚,但只要视其形态,你就能大致分辨出这人是谁,一旦走近了你就会一目了然,鉴定书画也是同样的道理学习鉴定好先从某位名家入手,了解他所处的时代,他的个性风格。看多了,看久了,就会总结出一些特征,然后再波及其他书画家,举一反三地进行对比研究,你就会慢慢地拿握出一套基本的知识与方法。
In fact, there are some so-called "painting dealers", whose eyesight is no worse than that of professional appraisal. In fact, identifying calligraphy and painting is like knowing people. For example, if you have a friend you are familiar with, you may not be able to see it clearly from afar, but as long as you look at its form, you can roughly distinguish who it is. Once you get close to it, you will know at a glance. The same is true for identifying calligraphy and painting. Learning to identify a famous artist first, and understanding his era and personality style. After reading too much and looking for a long time, you will summarize some characteristics, and then spread them to other calligraphers and painters. By drawing inferences from one instance, you will slowly grasp a set of basic knowledge and methods.
自然,要真正精通书画鉴赏也不是一件轻而易举的事。每个时代都有不同风格面貌的书画家,同一时代也有不同的书画流派与作者,就是每位书画家本人,其早期、中期与晚期的创作风格也各不相同。
Naturally, it is not easy to master the appreciation of calligraphy and painting. There are calligraphers and painters with different styles in each era, and there are also different calligraphers and painters in the same era. That is, each calligrapher and painter himself has different creative styles in the early, middle and late stages.
更何况,书画自有经济价值以来,历代就不断有人采取各种手法伪造做假,以欺人蒙骗谋取利益,这就给鉴定书画带来了一定的难度与复杂性。因此,要真正掌握书画鉴定也不是件容易的事。
What's more, since the economic value of calligraphy and painting, people in the past dynasties have taken various methods to forge and cheat in order to deceive people and seek benefits, which has brought certain difficulty and complexity to the identification of calligraphy and painting. Therefore, it is not easy to master the identification of calligraphy and painting.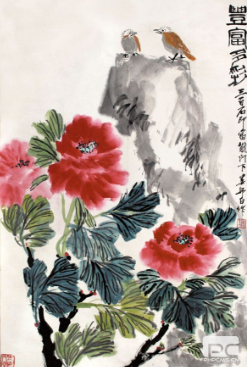 那么,怎样才能学好这门专业呢?
So, how can we learn this major well?
实践出真知。鉴定书画说来说去还是要多看多比较原作,平时要有意识地加强真迹与伪作的比较分析,弄清不同流派的个性特点。
Practice produces true knowledge. Generally speaking, we should read and compare the original works to identify calligraphy and painting. At ordinary times, we should consciously strengthen the comparative analysis of authentic works and fake works, and clarify the personality characteristics of different schools.
加强自身修养。在古玩各门类中,书画鉴赏是较难的一门学问。故而,学书画鉴赏还必须学习与之相关的历史、文学、美学、美术史等方面的知识。另外,还必须了解书画创作的基本方法与创作过程。同时,还须了解书画作伪的常识,这些对提高眼力都很有帮助。
Strengthen self-cultivation. Among the various categories of antiques, painting and calligraphy appreciation is a difficult subject. Therefore, to learn calligraphy and painting appreciation, we must also learn relevant knowledge of history, literature, aesthetics, art history, etc. In addition, we must understand the basic methods and creative process of painting and calligraphy creation. At the same time, we must also understand the common sense of falsification in calligraphy and painting, which is very helpful to improve our eyesight.
鉴赏与收藏结合。学习鉴赏必须与收藏相结合,只有敢出钱买东西,才能不断提高自己的眼力。至今为止,还没有听到一位会鉴定而从不收藏的人。
Combination of appreciation and collection. Learning appreciation must be combined with collection. Only by daring to pay for things can we continuously improve our eyesight. So far, I haven't heard of a person who can identify but never collect.
山东收购名人字画
商家提醒,这并不是说学习书画鉴赏必须具备上述知识才能进行。但加强学习,要提高鉴赏水平也是很难的,一位有志于学习书画鉴赏与涉及收藏的人,只要边干边学,持之以恒,是能够成为一位鉴定收藏家的。
Shandong's acquisition of celebrity calligraphy and painting merchants reminded that this does not mean that learning calligraphy and painting appreciation must have the above knowledge. However, it is also difficult to strengthen learning and improve the level of appreciation. A person who is interested in learning calligraphy and painting appreciation and collection can become an expert collector as long as he studies while working and perseveres.
The above is the relevant content about the problem shared for you today. I hope it can help you. If you want to know more, you can contact us by phone or follow our website http://www.jinandayatang.com 。